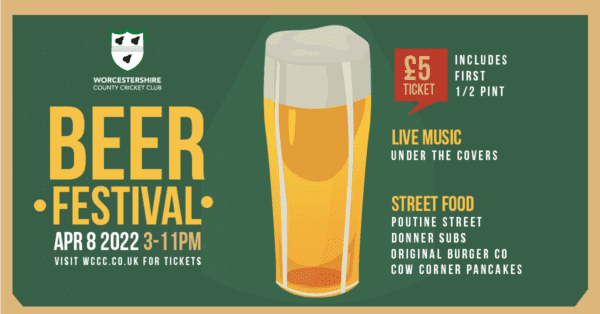 With a fantastic variety of ales and ciders, top class entertainment from Under the Covers, and not to forget delicious food from our Street Food village, our Beer Festival is an event too good to miss!
If you fancy a day out drinking exceptional beers, ciders and ales with your friends then New Road is the place to be on Friday 8 April!
The event starts at 3pm and runs through until 11pm.
You can book your tickets by clicking here.
Or alternatively, you can:
Call: 01905 337940
Email: events@wccc.co.uk
---
Tickets £5 – Includes First 1/2 Pint
Street Food

Poutine Street: Authentic Canadian Fries, Cheese Curd, Signature Gravy, choice of succulent meaty toppings
Donner Subs – fresh sub rolls, wedged with donner meat, fries, Tzatziki
Original Burger Co – locally produced butchers burgers, add your toppings and sauces to create your own Original Burger!
Here are the drinks that will be on offer!:
Cask Ales
Old Speckled Hen 4.5% ABV
Greene King IPA 3.6% ABV
London Glory 4.1% ABV
Moreland Original 4.0% ABV
Yardbird pale ale 4.0% ABV
Old Golden Hen 4.1% ABV
Hardy & Hanson 3.9% ABV
Abbot Ale 5% ABV
Ruddles Best 3.7% ABV
Old Hoppy Hen 4.2% ABV
Greene King Heritage 5%. ABV
Greene King Spring Break 4.4% ABV
Ciders
Henry Weston's cloudy vintage 7.3% ABV
Henry Weston's dry still 6% ABV
Henry Weston's family vintage 5% ABV
Old Rosie 6.8% ABV
Wyld Wood 6% ABV
Rosies Pig cloudy Raspberry 4% ABV
Rosies Pig cloudy Rhubarb 4% ABV
Rosies Pig cloudy Apple 4.2 ABV
Rosies Pig cloudy Strawberry 4% ABV
---
Please note that New Road is a cashless venue. All major debit and credit cards are accepted.