We have tracked down Worcestershire CCC's oldest surviving first-class cricketer – and he is 94 not out and still going strong!
Dennis Cunliffe Good played for the County an incredible SEVENTY FOUR years ago.
He was just 19 years old when he made his debut, and only appearance for Worcestershire, against the Combined Services at New Road on July 31.
Now nearly seven and a half decades later we can reveal that Dennis, who was 94 in August, lives in Ontario, Canada where he emigrated to many years ago.
There was great joy at the return of a full cricket programme that summer of 1946 after a six-season absence because of the Second World War. 
It provided a welcome attraction for people when picking up the pieces after the ravages and destruction of the conflict.
Rationing was still in place and did not end entirely until nine years after the end of the war.
The three-day game versus the Combined Services was a First-Class fixture, and Dennis received the opportunity after a spell as a professional in the Yorkshire League and being spotted by the Worcestershire 'scouts.'
His ability had already shone through at Denstone College where he captained the First XI and in one match against King Edward's School, Birmingham had figures of 6-5.
His father also promised Dennis £100 if he scored a century – and he achieved this as an 11-year-old!
The right-arm fast-medium bowler claimed his only First-Class wicket against the Combined Services, trapping Middlesex opener John Dewes, who went onto play five Tests for England, lbw for just two.
He finished with figures of 1-60 from 15 overs as Don Kenyon (107), Reg Perks (51 not out) and Mike Ainsworth (50 not out) – ironically all Worcestershire players appearing for the Services – helped their side total 429 in reply to 232.
Dennis only bowled two overs in the Services second innings as they won by five wickets after bowling out Worcestershire for 280 in their second innings despite 95 from Allan White.
He went onto play three matches for Glamorgan, but a ruptured achilles tendon ended his hopes of a full-time cricket career.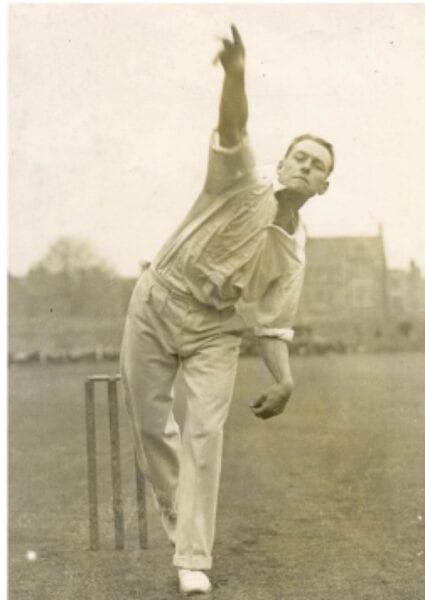 Dennis had been stationed with the RAF in Hereford, being called up just as the war was drawing to a close. He was a personal trainer for recruits.
He captained Yorkshire Golf Club and studied textiles at Leeds University from 1949-1952 where he received a sports scholarship and played for the cricket, rugby and golf teams.
After marrying Frances in 1951, he was offered work in Belfast or Montreal and chose the latter with his wife joining him once he had settled there.
Dennis played in a local jazz band as a drummer and set up his own textile import business in the 1970s as well as continuing to play golf – he had a handicap of two – and tennis.
We salute our oldest surviving First-Class cricketer and send best wishes from everyone at Worcestershire County Cricket Club.
---
*Thanks to Worcestershire CCC Heritage Co-Ordinator Tim Jones for the above information and Dennis is included in his new book 'The 51 – Worcestershire's Forgotten First Class Cricketers.'
In 2005, Worcestershire replaced the awarding of a county cap with a colours system for players who represent the club in county championship matches. When colours numbers were allocated retrospectively to former players, 51 of them missed out because the games they played, whilst first-class, were not in the county championship.
To celebrate their hitherto untold story, Tim has written a Who's Who of these players. Meticulously researched with the help of fellow Worcestershire life member, Clive O'Donnell, the stories of the players' lives both on and off the field of play have provided some illuminating and extraordinary stories.
With a foreword written by one of the players, John Chadd – a great servant of Worcestershire and Herefordshire cricket – the book will be published next year.
To receive details in advance of the publication date, please email timajones405@aol.com. There will also be the opportunity to be listed as a subscriber in the book.